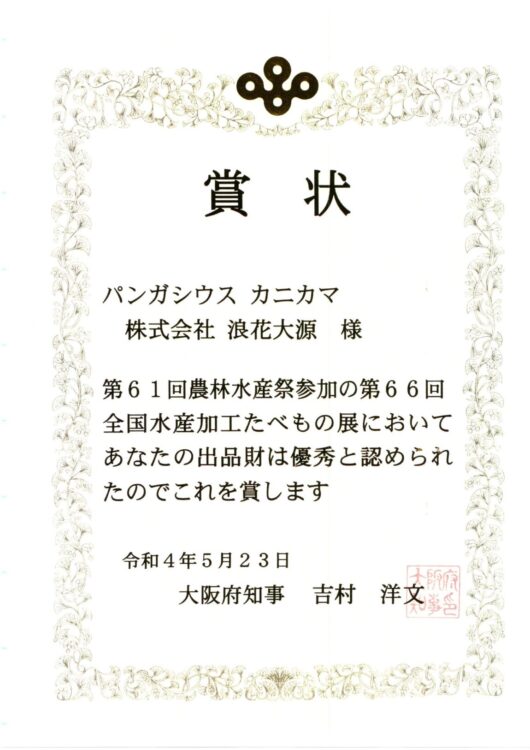 "Panga Sius Crab Stick" was manufactured by Naniwa Daigen Co., Ltd. using "Panga Slimi ®" from Meiko Foods Co., Ltd.
At the National Fisheries Processing Food Exhibition, each award-winning work will be selected and commended from among the "processed fish products that we are proud of from all over the country".
In this 66th meeting, 913 items were gathered and under strict examination.
"Pangasius Crab Stick" by Naniwa Daigen Co., Ltd. using this raw material was selected.
The following are the features of our "ASC Aquaculture Certified Pangaslimi ®" used in the award-winning products.
① Good freshness
② Quality equal to or higher than FA grade
③ Product yield increased by about 30%
The freshness is brought to the Vietnam factory and processed with "Pangasurimi ®" while it is still alive. Regarding the quality, the quality of "Pangas Limi ®" manufactured by Meiko Foods Co., Ltd. is controlled by gel strength (g / cm2), whiteness and fishy odor, and is equivalent to or better than FA grade of Bering Sea pollock surimi. I will demonstrate it.
Currently, Kamaboko maker Naniwa Daigen, who has already introduced "Pangas Limi ®", has a track record of increasing the product yield by about 30% by using this "Pangas Limi ®". We have heard that you would like to increase the usage ratio of "Pangas Limi ®".
・ (Meiko Foods Co., Ltd. will provide guidance and support regarding the technology for demonstrating the watering effect of increasing the yield when processing "Pangas Limi ®".)