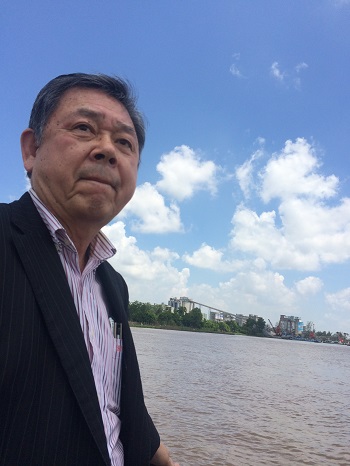 Nice to meet you. My name is Hiroyuki Myojin from Japan. First of all, let me introduce myself. I was born in July 1946 in Kochi Prefecture, Japan. This area has long been famous for its single-line bonito fishing industry, and my family has been the owner of a single-line bonito fishing boat for over 200 years. I went to a local high school and then to a university in Tokyo, and at my father's request, I went to work for the Myojin Maru, managing the business.
In 1986, when I was 40 years old, my father, the president of the company, said to me, "Management of a fishing business is unstable because we are dealing with nature. I am going to take charge of the seafood processing business myself," and with this determination, he established a processing division. As a result, the processing division grew to a business scale of 2.3 billion yen in 10 years.
However, realizing the limitations of local management, he built a new factory in Yaizu City, Shizuoka Prefecture, Japan's largest bonito landing port, and established "Tosa Bonito Suisan Co. Tosa Katsuo Suisan's straw-baked bonito tataki, made with 100% fresh "Hitori-Fishing Bonito", received overwhelming support from consumers and grew to 5 billion yen in 15 years, becoming the number one bonito processing company in Japan. The company has become Japan's number one bonito processing company. In the process, the "straw-baked bonito tataki production method" was patented internationally.
As Japan entered an era of deflation, retailers and consumers were demanding price over quality, and at the suggestion of his son Hiromune, Tosa Katsuo Fisheries obtained the "MSC Fishery Certification," which was born in the UK to protect and promote sustainable fishing methods and resource conservation on a global scale. In 2006, Tosa Katsuo Suisan Co., Ltd. became the first company in the world to obtain MSC certification in the field of single-head bonito fishing. The MSC certified inshore bonito is landed at Kesennuma Port at a rate of about 50,000 tons per year, but the price has been unstable due to the landing environment, often falling below 200 yen per kilogram.
When we consulted with the Kanto Bureau of Economy, Trade and Industry on ways to overcome this predicament, they gave high marks to the "MSC fishery certification. We were advised that we could export the fish if we commercialized canned products for Europe and the United States. We learned that a bonito canning company affiliated with ITOCHU Corporation was located in Kesennuma and was capable of processing more than 20,000 tons of canned bonito per year.
However, the day the contract with ITOCHU was signed was March 11, 2011 at 1:04 pm. It was 4:00 a.m. on March 11, 2011, the very day of the Tohoku earthquake. The day of the Tohoku-Pacific Ocean Earthquake, the landing wharf, freezing storage, and canning factory at Kesennuma Port were all washed away, and the business plan disappeared as a dream. My son, who had risked his life with me for the survival of our ancestral "single line bonito fishery" for "MSC certified bonito," died in a sudden accident in 2009. Due to various circumstances, we closed our bonito processing business in Yaizu Port, Shizuoka Prefecture, in 2012.
The garlic steak product that my son developed before his death won the Minister of Agriculture, Forestry, and Fisheries Award, and the process was patented internationally in August 2013. I want to leave a living proof of my son's life. I discussed this idea with a JETRO advisor, and he agreed to share it with the world on the JETRO TTPP page, which led me to visit VASEP in Vietnam. This led to a visit to VASEP in Ho Chi Minh City.
I visited VASEP in Ho Chi Minh City and learned that more than 20 million tons of Vietnamese Pangasius (catfish) are produced annually. Pangasius catfish is produced in Vietnam at a rate of more than 20 million tons per year. The potential of this white fish as a product was great, and I thought that by utilizing the "garlic steak" processing technology developed by my son Hiromune, we could develop a processed surimi product that would be in demand by one million tons worldwide. After several years of research, we have applied for a patent for a "method and equipment for manufacturing fish paste products.
This patented technology has developed a heating method that demonstrates the "gel strength" of the surimi, realizing SA-class and FA-class surimi, and realizing an overwhelmingly effective addition of water. The whiteness of the "surimi" is the whitest possible due to Pangasius' own body color. Finally, the remaining technology to eliminate the unique "fish smell" of freshwater fish was realized by utilizing the seafood processing knowledge of Meiko Foods Co. In the midst of the depletion of marine fish resources, which is the UN's SDG target No. 14, "marine abundance," Pangasius from Vietnam has been certified as an ASC farmed fishery and is now being sold in the United States. Grown under ASC aquaculture fishery certification, and It is produced in an EU HACCP-certified factory.
In addition, we have commercialized "Vietnamese Pangasius Kabayaki," which surpasses the high-class Japanese dish "Eel Kabayaki," and started selling it at the same time we applied for the patent for the production method. In addition to these products, I was convinced that the more than 2 million tons of Vietnamese Pangasius could be used to develop a wide variety of products by utilizing my 40 years of seafood processing technology and knowledge. I was convinced of the potential to develop a wide variety of products by utilizing my 40 years of knowledge and expertise in seafood processing. I am proposing this project because I believe that my son will be pleased if this project contributes to the acquisition of foreign currency and the increase of employment opportunities in Vietnam through the commercialization of Vietnamese Pangasius as a high value-added product.
December 29, 2021
Hiroyuki Myojin President and Representative Director Meiko Foods Co.
806-5 Saga, Kuroshio-cho, Hata-gun, Kochi 789-1720, Japan
Tel:+81-880-55-3881 Fax:+81-880-55-3885 Mobile:+81-80-2975-7443
Email:h-myojin@iwk.ne.jp Skype:HIROYUKI MYOJIN
https://meikoshokuhin.co.jp/
Translated with www.DeepL.com/Translator (free version)